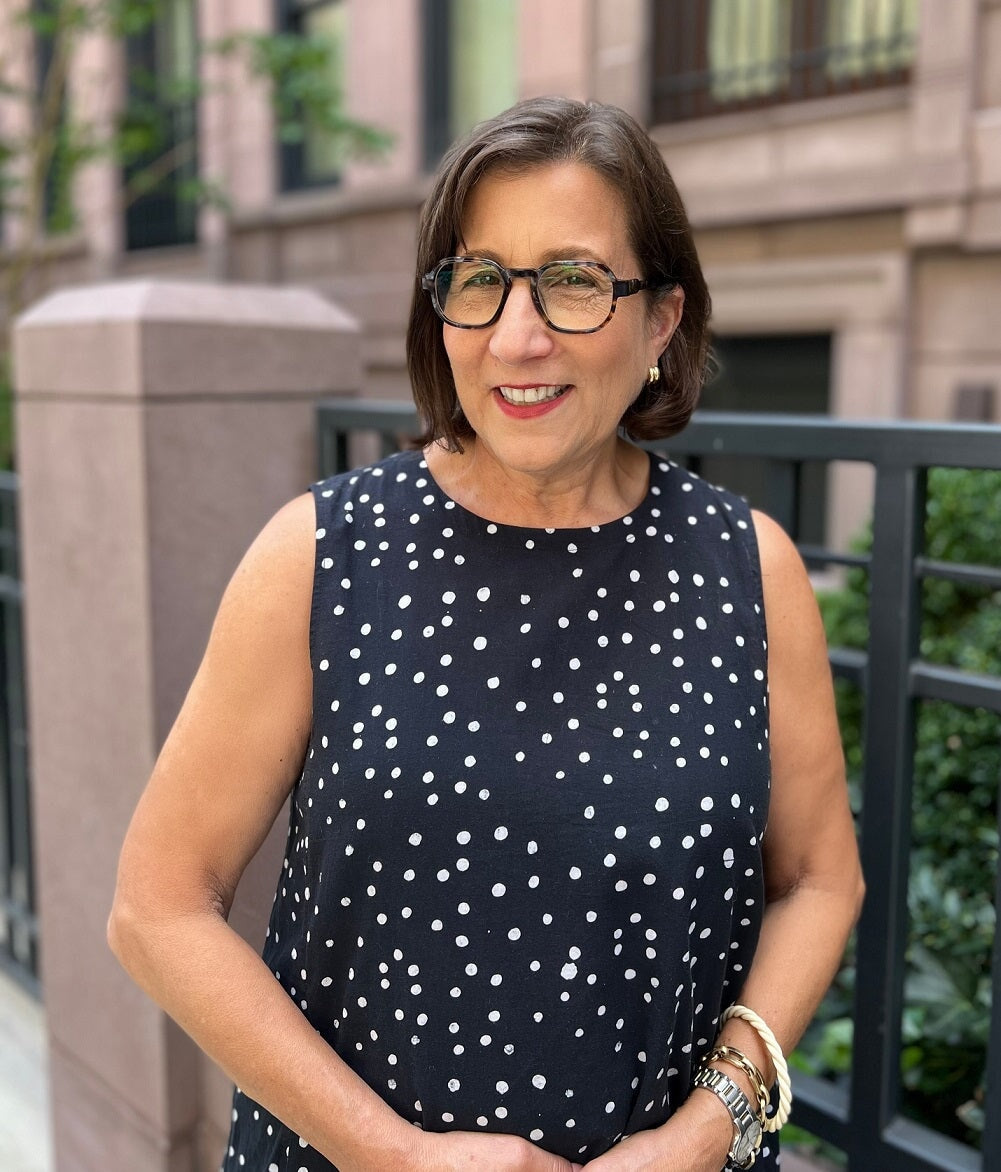 Things I Wish Someone Told Me About Starting a Business Today
Jun 03, 2023
Written by Renee Bachner | 0 comments
My story as captured as part of our interview series called
"5 Things I Wish Someone Told Me Before I Became A Founder"
Founded by New Yorker and mother of three, Renee Bachner, RENEE'S READERS was created with the intention of applying the highest standards of prescription eyewear to readymade reading glasses. What began as a career in fashion and working in retail, transformed into leveraging her expertise as a licensed optician of 30 years to establish RENEE'S READERS, the eyewear brand that combines style with comfort, durability, and wearability. Renee combined her love for eyewear's seamless mix of science and fashion, to create reading glasses with the most flattering frame styles and premium optical lenses for the clearest, most comfortable vision that eliminates eyestrain even for long hours of computer work.
Thank you so much for joining us in this interview series! Can you tell us a story about the hard times that you faced when you first started your journey?
My start was slow. As a mother of three, the daughter of aging parents, and manager of a store front business, I was stretched thin. The stress of wanting to be everything to everyone was exhausting. Often, I would have to drop everything and drive close to an hour to help my elderly father whose health took a turn for the worse. Additionally, my mother who had Alzheimer's, still needed my attention even with a live-in aid. At the same time, I had three teenage children, and I did not have a restful night's sleep for years. During those tough times, I drew inspiration from my optical store customers, many of whom were going through similar stressful caregiver situations. As a small business owner and licensed optician, I had earned a reputation for my fashion sense and meticulous attention to technical detail, and with my customers' encouragement and my great organizational skills, I was able to keep on track despite the challenges I faced every day. The nature of our product, reading glasses, really requires educating the consumer for them to make the best choices by having a better understanding of the dynamics behind reading vision, lens quality, and its importance to clarity, eye comfort and better health. With more people using digital devices, eyestrain and eye health have become the center focus, and with that people have become more discerning shoppers. This worked to our advantage because the unsurpassed quality of our reading glasses has wowed even our most discerning optical professionals.
 Where did you get the drive to continue even though things were so hard?
I believe that inner strength often comes from failure or fear thereof. With every failure, we learn and become stronger, smarter, and more self-confident. That's a takeaway from parenting and entering entrepreneurship later in life. Sometimes we don't realize our own strengths. As a mother, I raised my children to treat others the way they would want to be treated, to believe in themselves, to work hard to accomplish their goals, and if they fail, don't give up and try again. My own words empowered me. For me, part of my motivation was that I had a vision of how to make the business I'm so passionate about better. That's when I decided to make readymade reading glasses so that my customers could read at their best in frames that looked good and fit correctly. A big part of it is you must really love what you do, and I do.
So, how are things going today? How did grit and resilience lead to your eventual success?
Business is doing well! I am constantly in tune with lifestyle trends and the offshoot of developing needs to remain relevant to both my existing loyal consumer base and newer consumers. The workforce, whether in the office, at home, or hybrid, is working for hours every day at a computer. That has created eyestrain, the most common ailment no matter what your age. My business has grown significantly since I launched and joining an affiliate network is the latest step towards expanding our reach. When it comes to bestsellers, the pandemic has given consumers a better understanding of the importance and necessity of blue light reading glasses — styles "CHRIS" and "DEBBIE," are two of the most popular readers on my website. Not far behind blue light glasses are our progressive glasses which provide high quality, low-cost progressive lens glasses for everyday multi-distance vision and multi-screen computer reading. Our unprecedented success with the progressive reader frames is thanks to the integrated adjustable nose pads for personal and proper lens alignment, and our all-in-one premium quality lens features that have captured the computer workforce. People are looking to simplify their lives so our photochromatic readers have been very popular, offering the versatility of glare free indoor computer reading as well as outdoor reading, glare free with sun and UV protection. Our flexible reading glasses have durable titanium-based prescription quality frames with premium quality thin anti-glare lenses which is why they have consistently remained a repeat purchase for many of our customers.
What do you think makes your company stand out? Can you share a story?
We are truly authentic, and people can easily pick up on that. We are authentic to the quality of our reading glasses, our commitment to serving our customers, and in our work to give back. We sell an extremely high-quality product at a reasonable price. Old fashioned ideals of quality, expertise, and value never went out of style, and we honor those values every day. We are committed to educating our customers so they make informed choices when it comes to choosing the correct lens power for their reading distance and directing them to frame styles that will flatter and fit them comfortably. Our blogs feature articles that address many of the topics our customers want to know more about. We are not just about making the sale but truly helping our customers find the right pair of readers that will meet their visual needs. Lastly, our dedication and passion for participating in Alzheimer's Caregiver Services furthers our company's mission.
None of us can achieve success without some help along the way. Is there a particular person who you are grateful towards who helped get you to where you are? Can you share a story?
I had a lot of reservations about diving in. My brother encouraged me to take the initial leap and my children have continuously been my biggest supporters. Friends and customers have also played a big part in Renee's Readers' success. They have inspired me, supported my brand, and stood by me with encouragement. They may not have been the most visible or vocal supporters, but I always knew they were cheering me on.
How have you used your success to bring goodness to the world?
I became active in the Alzheimer's Association partly because I felt I could give to others from what I had learned from my own experience with the disease. The level of intensity, emotionally and physically, when caring for someone who has Alzheimer's can be beyond comprehension unless you have experienced it in some way. As difficult and draining as it may be at times, I feel I am helping caregivers by offering them insight and comfort in the challenges they face every day. Every Alzheimer's story is heartbreaking and sometimes just a hug, a hand, or an empathetic ear can be comforting. Sharing my knowledge from my personal experience with Alzheimer's, listening and just saying "I know what you are going through, and I am here for you…you are not alone." I would not exactly say this brings goodness to the world, but I do think I am a contributor.
What are your "5 things I wish someone told me before I started leading my company" and why. Please share a story or example for each.
The amount of capital needed to launch a business today. The internet has crowded out small business start-ups like mine who simply cannot compete because they do not have the investment dollars. What was once paid in store front rents is exponentially higher for product promotion, shipping expenses and website maintenance- just to name a few. What may seem simple, is anything but.
Which leads to my next thing: More than start-up costs, you need to factor in the constant expense of always-on online marketing. Having a great product alone simply is not enough- you need people to see it, in order to buy it! People are moving across so many channels that you need to keep moving with them if you want to be seen.
Be prepared to spend a lot of time keeping informed of world events and educating yourself on ever-changing SEO developments that will affect your web store. These changes, although usually left in the hands of your hired professionals, still impact overall decision making.
You will need to keep moving. Starting a business based on a product is great, but as time goes on, you will need to continue to innovate. For my business, that means that I have launched blue light glasses, and progressive readers in a short amount of time to keep up with consumer demand.
Starting a business, today more than ever before, requires a huge commitment in every way imaginable. The one bit of advice I can offer is, if you want to make it a success, be passionate and prepared to give it everything you've got!
Can you share a few ideas or stories from your experience about how to successfully ride the emotional highs & lows of being a founder?
When you enter entrepreneurship later in life, you've already experienced some highs and lows, whether it be in business or life in general. S you learn to step back, assess, make decisions, and be resourceful. I also believe that with struggle comes strength and many times it forces us to look at things from a different perspective that can often spur new ideas and growth. Stuff happens, it's important to not cover up your disappointment but to turn it around and remain positive for yourself and your staff. It's the can-do attitude that drives success.
 You are a person of great influence. If you could start a movement that would bring the most amount of good to the most amount of people, what would that be? You never know what your idea can trigger.
I am extremely upset by the growing presence of hatred in our society and the implications this will have for future generations. Here are a few of my thoughts for forming a movement addressing some of the causes of hate:
We are not born to hate. If you grow up in a home of neglect or meanness, abused or bullied, do you carry that on or do you make up your mind to do it differently? We decide how we want to live our lives and the life we want to create for ourselves and our future- our children. We all have good and bad things about us but as parents we have the power to bring out the good, make our children feel appreciated, loved, and content with who they are. Tell them so. "I believe in you," those words will stay with them for the rest of their life. A mother's love is more powerful than anything in the world. From my optical studies, I learned that we see with our brain. The basics are the same but how the brain processes it is different for every one of us. We need to instill an understanding and respect that at the core we are all the same, we all crave the same things, even if on the outside we look different. Respect, to give and to get is one of the greatest superpowers. So how do we stop the cycle of hatred that often festers through generations? It starts with a child. I would like to see some form of support that offers insightful support to parents and children struggling to navigate the day to day. It would be great if we could bring professionals together who are available via video call to provide insight, advice and when necessary, intervention.