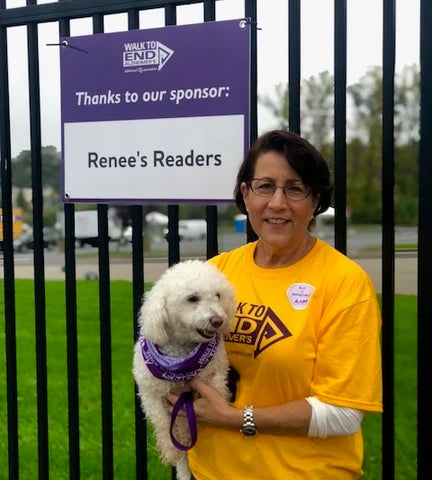 Alzheimer's Disease- My Cause
Aug 22, 2021
alzheimers_disease_my_cause_renees_readers
Written by Renee Bachner | 0 comments
The corona virus has impacted all of us in different ways; some experiencing the pain of loss, poor health, loss of income and lots of us with the loneliness of isolation. The caregiving community is all too familiar with this. 
The spring gave them a sense of renewal and hope but now with an uptick in Delta variant cases the coming fall and winter seasons have put so many caregivers in an uneasy state at the thought of spending days on end watchfully caring for loved ones, day, and night, without a moment to themselves. 
2021 FACT: OVER 11 MILLION AMERICANS PROVIDE UNPAID CAREFOR PEOPLE WITH ALZHEIMER'S AND OTHER DEMENTIAS
Alzheimer's patients, especially those in middle to late stages need around the clock supervision. The elimination of in-person patient activities and a shortage of qualified caregiving help has left many with the burden of 24/7 care further exacerbated by their own by poor health and fatigue often coupled with anxiety and depression.
The Alzheimer's Association has focused on keeping caregivers connected through Zoom programing. Support groups, social engagement programming and a 24/7 helpline are just a few of the resources made available. 
Your commitment with a DONATION is ever so much more important now as Alzheimer's disease continues to grow and patients and caregivers facing a shortage of home care aids are ever so much more reliant on the many support services that the Alzheimer's Association provides.
Thank you for your support, 
Renee